There are many different ways a pro shop operator can lay out your bowling ball. In this premium video, Scott Pohl, owner of On Track Pro Shop, explains how a fingertip grip allows the bowling ball to rest more on the palm of your hand, which will help increase rotation and hook as well as feel more comfortable.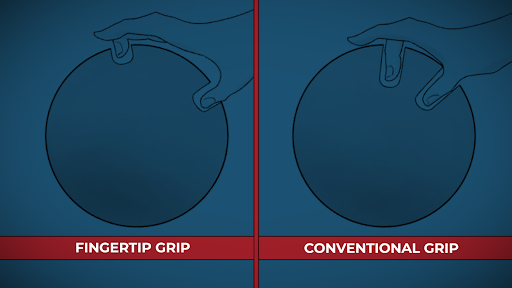 Span
The span refers to the distance from the front edge of the drilled thumbhole to the front edges of the two finger holes. To measure your span, a pro shop operator will use the oval measuring disc/span ruler. Your first knuckle should line up ¼ inch past where the finger holes will be drilled.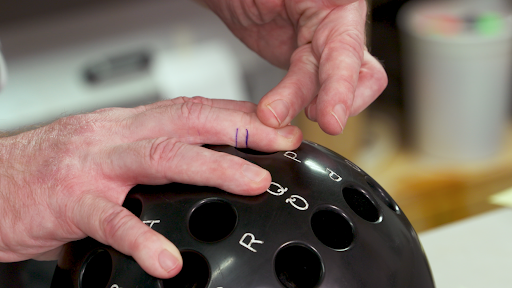 Because you only have your fingertips in the finger holes of the ball, the thumb will exit the ball first, followed by the fingers last at the point of release. This creates more rotation than a conventional grip where the fingers and thumb exit the ball at the same time.
Pitches
Angles in which the holes are drilled into a bowling ball are known as pitches. For the finger holes, forward pitches allow your fingers to remain in the ball a split second longer than reverse pitches.
Too much forward pitch in the fingers can cause tension. Reverse pitches tend to assist in rolling the ball with low-axis tilt and in a forward rolling motion. It's important to note that when you are bowling, insert your fingers first, then your thumb. This will put the weight of the ball into your palm and help to prevent squeezing.
Check out Bowling Ball Fit and Grip Pressure and Key Factors for Proper Bowling Ball Grip Pressure for more expert instruction.
Popular Pro Shop, Equipment & Accessories videos