Two-Handed Bowling: Spare Shooting Basics
If you are lined up and hitting the pocket consistently, you are likely striking or leaving a manageable spare. Manageable includes single pin spares and anything that is not a split. All multi pin spare conversions are not created equal, so check out our spare shooting library to learn more.
Two-handed bowlers have a higher rev rate than traditional bowlers. This can prove challenging when shooting at spares for beginner two-handed bowlers. In this premium video, Scott Pohl, owner of On Track Pro Shop, explains spare shooting basics for two-handed bowlers that will increase your average.
Straighter
Throwing a plastic ball at spares allows you to straighten your angles without having the ball overreact. This will remain consistent on any oil volume/pattern and lane surface.
A straighter ball path with a plastic bowling ball combats the hi-rev rate produced from the two-handed bowling style.
More Tempo and Acceleration
Speeding up your footwork will increase your ball speed. This cuts down on the amount of hook your bowling ball produces.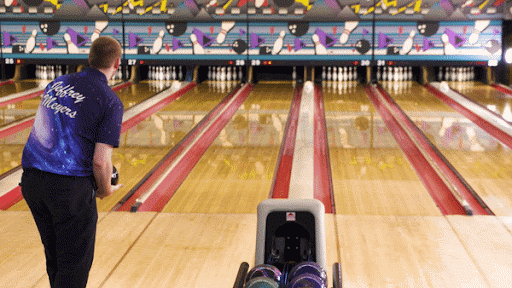 Even when throwing a plastic bowling ball at spares, your bowling ball will hook when it hits the friction. You will notice this more when your ball speed is slower. Depending on the oil volume, you may have to adjust your starting board slightly on the approach when shooting spares. Move the direction you are missing. Remember, small moves.
Check out our bowling exercises and mental game libraries geared to help everyone achieve a well-rounded game.
Popular Two-Handed Bowling videos