Two-Handed Bowling: Three-Step Drill
What is timing in the sport of bowling? Having your ball start occur in time with your footwork is one point of reference where timing is identified, and another point of reference is when your footwork is in time with the peak of your backswing
In this premium video, Scott Pohl, owner of On Track Pro Shop, overviews the Three-Step Drill and explains how this timing drill shortens the approach and helps two-handed bowlers get a better sense of when to start the ball out of the stance and how it feels when it is at the apex of the backswing.
How It's Done
Walk up to the foul line with your bowling ball and turn around towards the settee and take three steps back. Then turn around and face the pins and get into your stance. The cadence for the steps is short step, short step, and slide.
The ball starts immediately out of your stance on the first step. The second step of this drill will have the ball reach the peak of the backswing, and then the slide occurs with the release.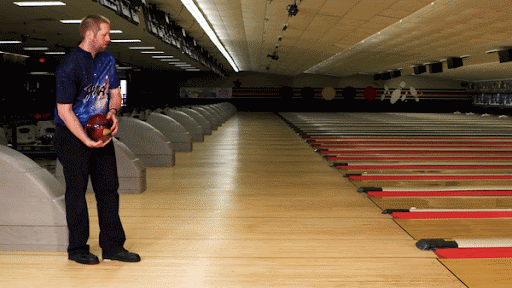 For more information on how two-handed bowling timing works for the full approach, check out "Two-Handed Bowling: Timing."
Key Takeaways
There are very noticeable differences and some similarities between the traditional style of bowling and the two-handed game. Below are some key takeaways from the three-step drill that two-handed bowlers should keep in mind while working on it.
– For a right handed bowler, start the ball in time with the left foot.
– For a left handed bowler, start the ball in time with the right foot.
– Let the ball get into the peak height of the backswing before sliding.
– Release the ball as close to your ankle as possible.
– Post your shot.
Check out "Two-Handed Bowling: Footwork" and "Two-Handed Bowling: Ball Start" for more expert instruction tailored specifically to help you improve your game.
Popular Two-Handed Bowling videos